By Jeff Kirkpatrick and Colleen Estes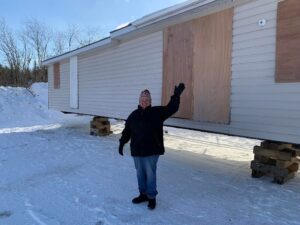 Near the end of February, a trailer home was delivered to Pikangikum via the winter road. This delivery is the culmination of over two years of prayer and hard work by Terry Janzen in partnership with Colleen Estes in Pikangikum. In June 2019, Terry led a six-member team from Shantz Mennonite Church in Baden, Ontario to visit Pikangikum with a desire to see first-hand the ministry needs.
They determined from observation and conversations with Colleen that three things were needed: funds for the renovation of the Eagle's Nest/Night Light building, additional labourers, and suitable lodging for those workers. God quickly provided for the Eagle's Nest renovations and a team to do that work. However, the trailer brought to the community in 2010 was no longer livable and extra housing in the community was non-existent.
After support and approval were received in July 2021 from Chief and Council, Terry began relentlessly searching for a trailer for sale. Through an abundance of prayer and the generosity of churches and individuals, God provided over $75,000 for the purchase of the mobile home, moving it to Pikangikum, and setting it up for use there.
The one bedroom trailer is located close to the Eagle's Nest/Night Light youth building and right across from Colleen's residence. The area had been a swamp, but after contaminated soil was removed this fall, it was filled in with gravel and leveled just in time for the trailer. It will take some work to make it ready for occupancy, but God will make a way for that as well!
"Pray ye therefore the Lord of the harvest to send forth labourers into the harvest."
Would you join in prayer with Colleen and Living Hope Native Ministries that the Lord would bring workers who are passionate about children and youth ministry to share in the Kingdom work alongside Indigenous believers? Give thanks to God for His provision!